St. Patrick's Day has become synonymous with drinking in modern days, but do you know what kinds of celebrations they had in the 1850s?
The Pilot, an Irish-American newspaper in Boston, dedicated the whole of page 2 of their April 10, 1858 issue to the many celebrations in different areas of the States and world. Here's a glimpse.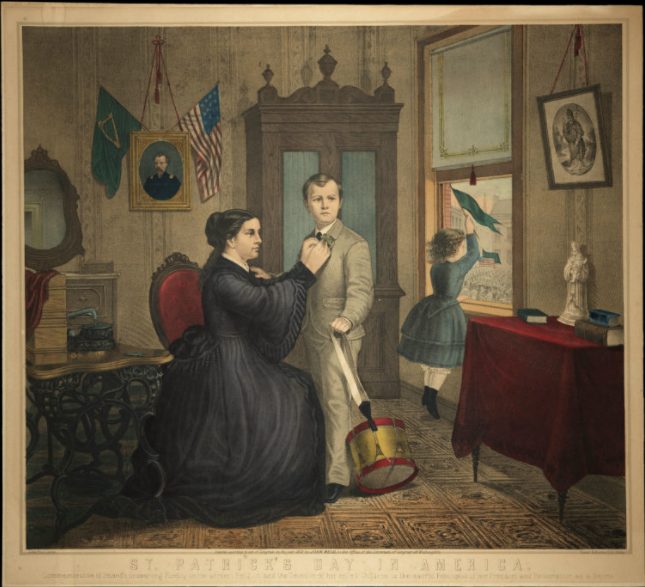 Watertown, NY
Many people went to Catholic church for a 9 a.m. service, and after communion, they were "delivered a glowing eulogium on the life and virtues of Ireland's Patron Saint—St. Patrick."
Pottsville, PA
The Young Men's Hibernian Benevolent Association held an annual dinner and ball. Toasts were made and chatted about, and when the dinner was over, they went into the ballroom where "sentiment and beauty prevailed" and danced until the early hours of the morning.
Carondelet, MI
"For the first time in Carondelet the friends of Ireland met at Mr. J. Owens, to celebrate Patrick's Day. Toasts were given, speeches made, &c., and this new beginning of the celebration of the 17th was duly honored."
Canada West
At 9 a.m. members of St. Patrick's Society started a procession with flags and banners and the Perth St. Patrick's Band. They marched to the church. The building was packed and hundreds stood outside "during the celebration of the Divine Mysteries." High Mass was celebrated with multiple reverends, and then the procession reformed and walked through the streets. In the evening, 80 gentlemen had dinner at a nice hall off of a hotel, decorated with evergreens and the society's banners and flags. Speeches and lectures were enjoyed.
Belfast, Ireland
Almost fifty gentlemen went to a fine dining restaurant to eat together and celebrate. Their meal was served at 7:30, and live harp music was played. They also had several speeches given that "breathed the old spirit of '98."
Love the Victorian era? Read my historical suspense books!