Corrupted Magic is the second book in the Grimoire Society of Dark Acts series. Episode 21 is up on my Patreon—it's pay-what-you-like—and it'll go up three days later on Kindle Vella. Here's an excerpt from this latest episode.
If you love fight scenes, this episode is one you'll love!
What Corrupted Magic is about:
Grimoire Society of Dark Acts's hard-won defeat of the brutal Harpe brothers should have been a relief… But through a forced double blood-binding, Gertrude disappears right in front of their eyes. The Ruin Rats, a vicious magical street gang, is out for Dark Acts's blood. Knox calls on the deadly gang from his past for help, but is the physical cost too high to pay? As if that's not enough, a new corrupt form of magic is throwing the entire magical universe off balance.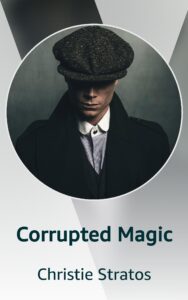 Episode 21: A Life for a Life
KNOX
If the Ruin Rats are pullin' from the pool of Bowery Boys down in New York, some of these rats may be non-magicals, but I can't count on that. Not when they came here just to take me on.
"If yer so sure I'm the one who killed yer boys, what're ya waitin' for? What's with this speech? How come ya didn't bag me on the street?" Knox tilted his head at Bricks, gathering all his resentment at being cornered in a public place where others could get hurt, being deliberately outnumbered instead of challenging him to a fair fight, and clearly following him to get him in this position. He channeled all of it into one sentence: "Yer a meater 'cause ya know I'd knock ya off the hooks without yer little friends to save ya."
Bricks pushed Knox hard, but Knox was ready for it. He grabbed Bricks's neck with both hands and slammed his forehead into Bricks's nose, his tall hat flying off his head as he grunted from the impact. Knox pushed his foot off the bar behind him to shove Bricks backward into his men, blood running down his lip. 
The guy with the chains reared them back in his hand. Knox grabbed his shoulders and kneed him before the heavy chains could gain momentum. He yiped and his face contorted as he bent over, covering himself.
Someone wrapped their arm around Knox's neck from behind while Bones swung his razored walking stick at Knox's head. Cowards, the lot of 'em! Knox threw up his left arm to defend his head and felt the short razors tear through his clothes into his forearm, pain stinging where it gouged him. He threw out his other hand and grabbed the empty back of the walking stick, his fingers wrapping around the front of it, his index finger hitting a razor, but he held on tight anyway. 
Out of nowhere, Blood threw himself into Bones's side with a half-exuberant, half-terrified shout, his sloppy attack catching Bones off guard. Ha! Boy's plucky.
Enjoyed this excerpt? Please join my Patreon to continue the story—it's pay-what-you-like, and Patreon gets all episodes first before any other platform, plus exclusive details no one else will ever know about! 
You can also head over to Amazon to read and like this episode. While you're there, hit +Follow on Corrupted Magic so you're always notified when there's a new episode: https://www.amazon.com/dp/B0B7GGRRQ7/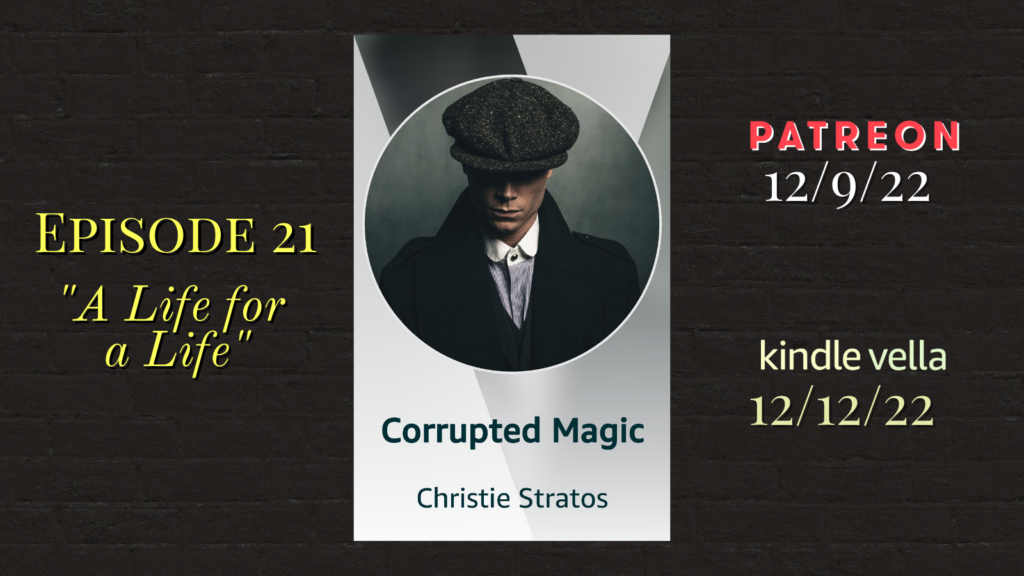 © Christie Stratos 2022