Corrupted Magic is the second book in the Grimoire Society of Dark Acts series. Episode 23 is up on my Patreon—it's pay-what-you-like—and it'll go up three days later on Kindle Vella. Here's an excerpt from this latest episode.
Knox faces an incredibly difficult decision with no guarantee of how it will turn out: steal someone else's life trying to fix the past, or let the future play out how it may—in the wake of his death.
What Corrupted Magic is about:
Grimoire Society of Dark Acts's hard-won defeat of the brutal Harpe brothers should have been a relief… But through a forced double blood-binding, Gertrude disappears right in front of their eyes. The Ruin Rats, a vicious magical street gang, is out for Dark Acts's blood. Knox calls on the deadly gang from his past for help, but is the physical cost too high to pay? As if that's not enough, a new corrupt form of magic is throwing the entire magical universe off balance.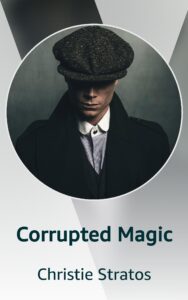 Episode 23: Warning Signs
KNOX
Peter shook Knox by his bloodied shirt and jacket, sending pain shooting through his battered body. "There's no guarantee if you go back in time that you'll make the right decisions because you won't remember any of this, but if you don't try, the Magical Societal Universe will fall apart because of your mistakes."
"No…guarantee?" Knox breathed.
"You have to want it badly enough that your past self will feel what you know now—it will have to come through as intuition. No, there's no guarantee. You must sacrifice a life to retry your own, and you may fail, but Mr. Knox, the way everything happened…your mistakes are severe enough to change the future and do it irreparable harm."
Knox tried to focus on Peter's words. Did he say before that Dark Acts was…losing? Can't be. They don't need me.
"What about Mr. Blood?" Peter nodded behind him. "He's going to turn out to be no good anyway when he recovers from this."
Knox let his head fall to the side to look at Blood, wincing as the back of his head stung with piercing agony. The young man was still on the ground, the damage done to his body unseen below his suit. He was unconscious but clearly breathing. Kill a young man? No. Never. It's 'cause of me he's in that state.
Knox looked back at Peter and weakly shook his head, keeping it on its left side as much as possible to ease the pain.
Peter frowned. "What about one of your old Dead Rabbit friends?"
How's he know so much about me? "Take…a Ruin…Rat."
"It has to be someone you care about, that's the only way it works."
Damned magic and its damned rules.
The Dead Rabbits weren't to blame for Knox's ostracization. Had he not done such an abhorrent act against them, against his own brother, he'd still be with them now. He shook his head again.
Far too late, Peter took off his jacket, balled it up, and pressed it against Knox's ribs where he'd been stabbed. Knox let out a soft chuckle at how unused to combat this man had to be if he'd only now thought to stifle the bleeding. His chuckle turned into a wet cough that spewed more blood down his chin.
"Mr. Knox, please, you have less than one minute left to live. If you don't choose someone to sacrifice, the future will be permanently corrupted. Everything will fall apart far beyond magical lives. You have no idea the impact… Please!"
Enjoyed this excerpt? Please join my Patreon to continue the story—it's pay-what-you-like, and Patreon gets all episodes first before any other platform, plus exclusive details no one else will ever know about!
You can also head over to Amazon to read and like this episode. While you're there, hit +Follow on Corrupted Magic so you're always notified when there's a new episode: https://www.amazon.com/dp/B0B7GGRRQ7/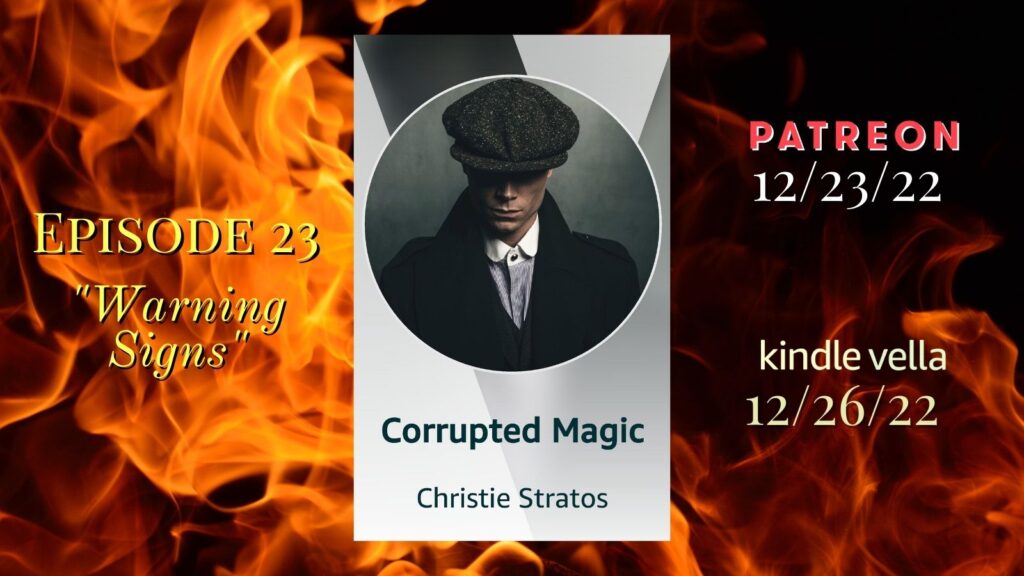 © Christie Stratos 2022