Corrupted Magic is the second book in the Grimoire Society of Dark Acts series. Episode 36 is up on my Patreon—it's pay-what-you-like—and it'll go up three days later on Kindle Vella. Here's an excerpt from this latest episode.
In which Luther and Carmichael compete for who is the biggest ass of the day, and we find out where prohibited magic is practiced.
In my Patreon post, you'll get exclusive content, including the real handwriting that inspired Grimoire Assassins's magic book's handwriting.
What Corrupted Magic is about:
Grimoire Society of Dark Acts's hard-won defeat of the brutal Harpe brothers should have been a relief… But through a forced double blood-binding, Gertrude disappears right in front of their eyes. The Ruin Rats, a vicious magical street gang, is out for Dark Acts's blood. Knox calls on the deadly gang from his past for help, but is the physical cost too high to pay? As if that's not enough, a new corrupt form of magic is throwing the entire magical universe off balance.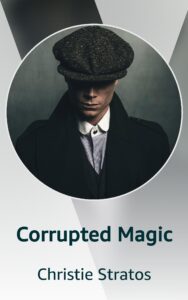 Episode 36: Out of options
ANNE
When Anne returned to the Grimoire's room, she didn't like the expressions she saw on Carmichael's and Morton's faces.
"It's done? You…stopped him?" she asked as gently as she could. Because it would mean Carmichael couldn't use the Grimoire either, and that was his whole means of magic, the thing that meant the most to him.
Carmichael lifted his head too high, in that arrogant way that sometimes covered pain, and nodded once.
Anne glanced at Nigel, still on the floor. "Perhaps it would have been a good idea to try to heal Nigel first."
Carmichael snorted. "Perhaps you could have thought of that before. I was a tad distracted by Fenn trying to commandeer my Grimoire. You know, the one thing of any value at all to me."
"Carmichael," Morton scolded harshly, looking at him, appalled.
Anne opened her mouth with a retort on her tongue, but she held it. This wasn't about her. It was about him losing part of himself just now. Arguing would only make him even more defensive. She took a deep breath and set her jaw, her eyes boring into his.
Looking down at his shoes, Carmichael kept his head high, but now it was clearly an effort. She could tell by the way his lips downturned slightly at the corners. He glanced up at her for no longer than a moment, swallowing hard. His head lowered to where it naturally sat, and a grimace crossed his face. That was the closest she would get to an apology.
"We ought to get back to the others," Anne said, her voice hard. She couldn't help her tone, and she wasn't going to try. "Leave the Grimoires. They're safer here, especially with Gertrude accessible through one of them. And anyway Grimoire Assassins's book is trapped in the house from the potion I used before." Anne looked to Sean, still in the doorway. "Can you pick up Nigel for travel?"
Sean closed the door to the room before he walked toward Nigel. "Yeah, won't be a problem."
"What I'm about to do," she explained to Sean as he knelt and started to position Nigel to put him over his shoulder, "may make you feel sick. We're going to travel magically." She reached into her pocket and removed her Raido rune stone, throwing it to Carmichael, who easily caught it and held it in a fist momentarily. He tossed the stone to Morton, who caught it in both hands and then wrapped it in a fist.
Sean straightened up and stood, showing no obvious signs of physical struggle, even though Nigel had to be at least six feet tall—taller than Sean by a head or so. Morton moved to Sean, who had missed most of what happened.
"Open your palm."
Sean did as told, and Morton dropped the rune stone into his hand.
"Close it."
Again, Sean followed instructions.
Anne took over. "Hold on to Nigel tightly so you don't lose him." She tapped Sean's fist and he opened it, seeming confused by this whole process.
"Lose him?" Sean squinted at her as if she made no sense. To him, she probably didn't.
"Just hold on to him no matter what." She closed her fist around the rune stone to complete the circle. Bright purple overtook everything as Anne visualized Grimoire Assassins's parlor room with its bizarrely contradictory flowery walls, its deep-blue chaise lounge, and its ever-present tense ambience. The next thing she knew, she felt the floor beneath her feet.
Sean looked off-balance, and his foot shot back to keep him standing. "Begorra!"
Enjoyed this excerpt? Please join my Patreon to continue the story—it's pay-what-you-like, and Patreon gets all episodes first before any other platform, plus exclusive details no one else will ever know about! 
You can also head over to Amazon to read and like this episode. While you're there, hit +Follow on Corrupted Magic so you're always notified when there's a new episode: https://www.amazon.com/dp/B0B7GGRRQ7/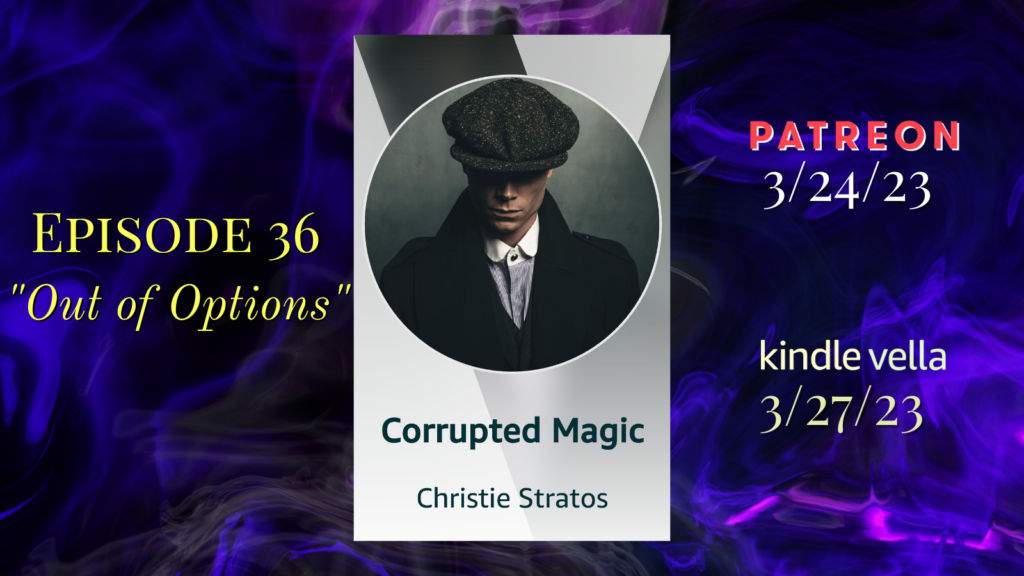 © Christie Stratos 2023