Happy Women's History Month! As you all know, I love forgotten and little-known history, so that's what I'm going to share with you today.
Have you ever heard of Dr. Mary Walker—Mary Edwards Walker? Often ridiculed in the 19th century, Dr. Walker was an American female surgeon back when the "women's sphere" existed, and marriage and children were a woman's sole purpose. Dr. Walker was the second woman in America to become a licensed doctor and the only woman to have received a Medal of Honor, and yet she was the butt of jokes in countless newspapers. Why? For wearing pants.
You read that right.
Dr. Mary Walker joined the Civil War to use her surgical talents for the North. She was initially rebuffed even though she had her own practice and had to work her way up through the ranks from nurse to field surgeon and then assistant surgeon. Most of the time, she was unpaid. She saved the lives of civilians on both sides of the war, became a prisoner of war in the South after aiding a Confederate doctor in an amputation, and was told even while captured that she really should wear a dress. Dr. Walker earned the only Medal of Honor in women's history, and yet she became most well-known for wearing pants in a world that considered them too masculine for women.
Side note: In case you're not aware of why the Medal of Honor is so important aside from Dr. Walker being the only woman to earn one, a Medal of Honor "is [America]'s highest military decoration for valor." It's given to those who "distinguished themselves conspicuously by gallantry and intrepidity at the risk of his or her life above and beyond the call of duty". (National Medal of Honor Museum)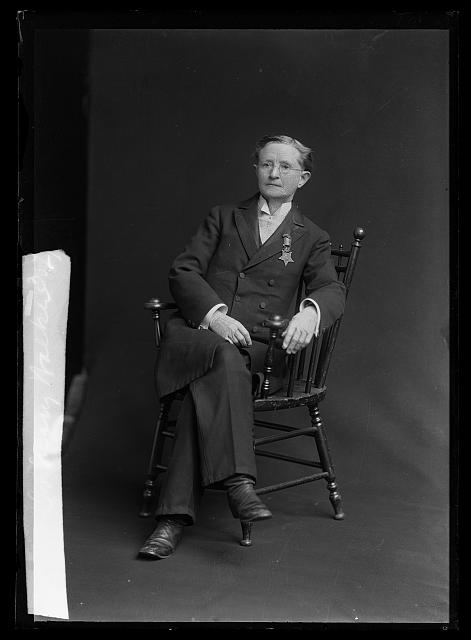 Because of her decision to wear pants, there seemed to be an out-and-out campaign against Dr. Walker, as evidenced by the many newspaper articles I came across while researching her. Often she was described as either lazy or hysterical, descriptions that don't match each other, and she was also described as someone who liked to be offered a privileged position and enjoyed commanding and demanding. In these kinds of articles, the men are often described as calm, logical, and honorable. Not only did newspapers speak poorly of her, but she was arrested for dressing like a man. Her argument for her rights was simple: she said she should be able to "dress as I please in free America on whose tented fields I have served for four years in the cause of human freedom." (Association for the United States Army) Another common argument she gave when accused of dressing like a man was, "I don't wear men's clothes, I wear my own clothes." (National Women's History Museum)
So why did she put herself through all this ridicule just to wear pants? As a doctor, she expressed her belief that it was more comfortable, hygienic, and enabled better mobility to wear pants while performing her duties, and she believed other women should wear pants too for the same reasons. Being the extraordinarily rare woman to try such a thing, she experimented with what she thought was appropriate. She tried wearing things like knee-length dresses with pants underneath and even wearing full male suits, which is what she ultimately stuck with. And she paid for it.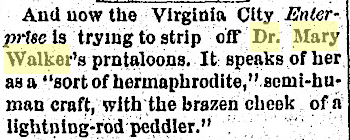 Dr. Walker was married once in her life, in 1855, to Albert Miller, a fellow doctor, and even their wedding was unusual for the time: "She refused to agree to 'obey' Albert in her wedding vows, kept her last name, and wore a short skirt and trousers instead of a traditional wedding dress." (National Park Service) Their happiness didn't last long. About four years into there marriage, Dr. Walker fought to get a divorce, and it was about a decade before she finally got it. (TIME) That was her one and only marriage. Years later, she's quoted and paraphrased in the following article, responding to a man who cites her clothes as the reason for being unable to love her: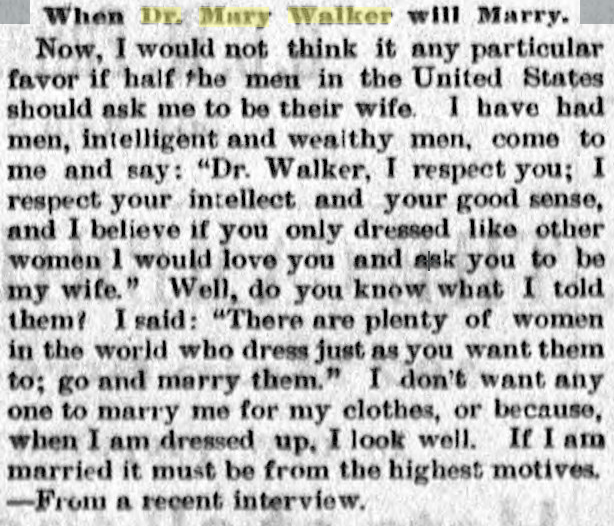 Dr. Walker's tenacity in sticking to her beliefs, even as newspapers all over the country tried to make her a laughing stock and degrade her, is one of the reasons dress reform happened in America.
If you'd like to hear me read a particularly shocking and aggressive article written against Dr. Walker, join my Patreon. I love sharing unusual historical tidbits, exclusive deleted scenes from my works, early access cover reveals, early and exclusive access to videos, and lots more.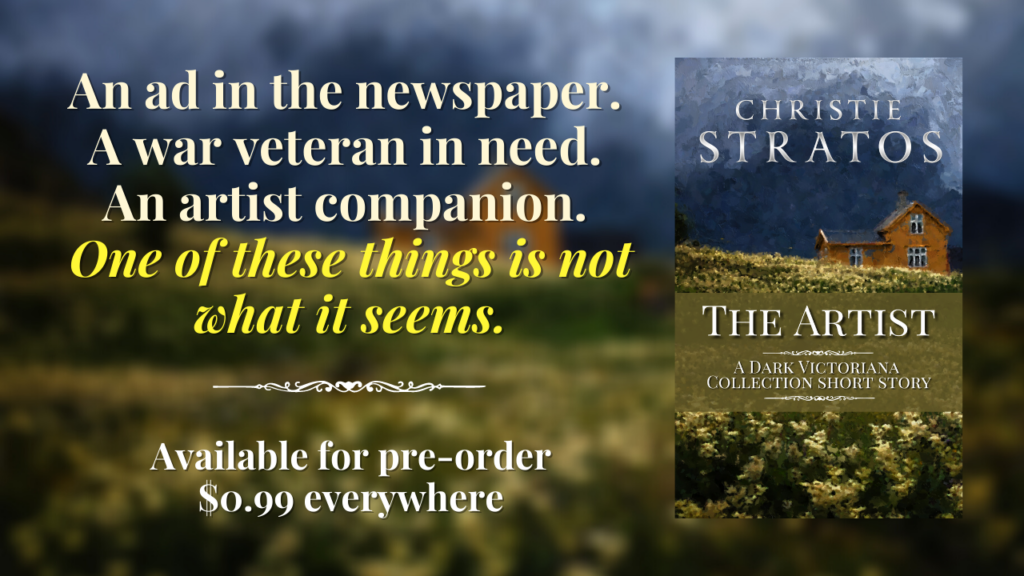 Pre-order on:
Amazon | Barnes & Noble | Kobo | iBooks | Smashwords