I know I'm a few months late on this (read: 3 months late – "I'm late for a very important date" indeed), but this year Lewis Carroll's Alice in Wonderland turned 150 years old. WOW! Even though it's been around so long, somehow it still seems new. Maybe that's because it's constantly being refreshed through new movies, videos games, short stories, poems, etc. Imagine a 150-year-old story being redone and reinvented so many times. What an accomplishment!
In honor of this momentous occasion, I want to share with you my favorite rendition of Alice in Wonderland.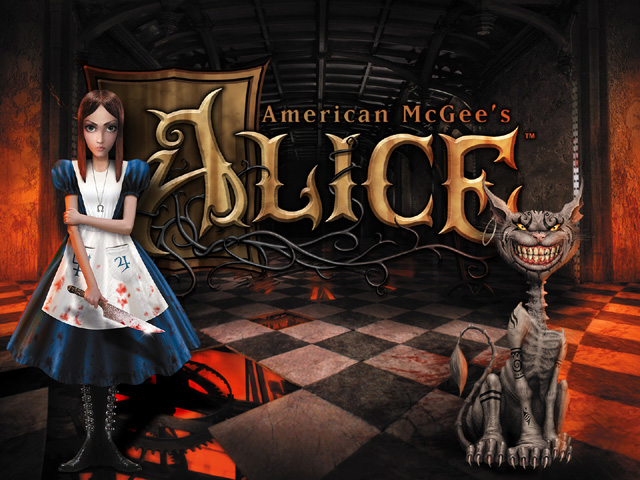 Have you ever heard of the video game Alice by American McGee, put out in 2000? How about Alice: Madness Returns, a more recent follow-up published in 2011? The former was a very underrated, under-the-radar game with a twist on Alice like you've never seen before, and it's my favorite of the two because of its originality.
In the game, Alice is now a teenager. The beginning sequence shows us that when she was young girl, a fire started in her house, and her parents were trapped behind their bedroom door. She escaped, but her parents died, which scarred her psychologically not only for losing them but for not really trying to help or save them and instead just saving herself. She is admitted to a psychiatric hospital because of this traumatic event, and the game picks up when she's a teenager still in the asylum. Cue the rabbit hole and Wonderland, which keep her trapped inside her mind as her only way to deal with the trauma in a way she understands. Now Wonderland is tainted and some characters are helpful while others try to kill her. They all represent sticking points in the recovery from her childhood trauma, and she must fight her way through Wonderland and, ultimately, the Queen of Hearts in order to escape her own mind.
That storyline was love at first read for me. What a way to spin a children's classic into a teenage adventure. It's also a great way to discuss trauma and recovery through a familiar character. It's never mentioned straight out in the video game, but on the main menu screen and a couple of images in the video game, self-harm is implied, brought on by survivor's guilt. Self-harm is a HUGE and important topic for teenagers (and other ages) since many of them deal with serious issues by hurting themselves. For it to be dealt with in a teenager-geared video game, regardless of that fact that it's only implied, is something to be applauded. Ultimately the video game sends the message that Alice is standing in her own way of recovering and she can only escape if she'll let herself, a positive message to plant in teens' heads.
Some may see this as perverting an innocent classic tale, but I think the creativity is commendable, especially the positive message of escaping your own demons with time, dedication, and serious work. (Side note: Recovering from trauma without professional help is not necessarily possible for all victims of varying degrees of trauma, but this is still a positive message.)
Between Alice and its more popular sequel, Alice: Madness Returns, there is a ton of fan art, cosplay, and both official and homemade merchandise due to not only the character's dark outfit but her strength in the face of inner demons. There are very few positive (and fully clothed) female video game role models out there, and even fewer that send an encouraging message about trauma recovery. I think it's a great way to integrate serious messages into enjoyable entertainment.
What's your favorite rendition of Alice in Wonderland? The original or a reboot?