Corrupted Magic is the second book in the Grimoire Society of Dark Acts series. Episode 32 is up on my Patreon—it's pay-what-you-like—and it'll go up three days later on Kindle Vella. Here's an excerpt from this latest episode.
Humphrey and Morton go looking for Carmichael and Finnegan in the basement…and they won't return.
In my Patreon post, you'll get exclusive content, including the reason for hysteria in the character who suffers from it.
What Corrupted Magic is about:
Grimoire Society of Dark Acts's hard-won defeat of the brutal Harpe brothers should have been a relief… But through a forced double blood-binding, Gertrude disappears right in front of their eyes. The Ruin Rats, a vicious magical street gang, is out for Dark Acts's blood. Knox calls on the deadly gang from his past for help, but is the physical cost too high to pay? As if that's not enough, a new corrupt form of magic is throwing the entire magical universe off balance.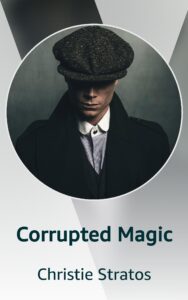 Episode 32: Hysteria
HUMPHREY
Morton led the way back down the stairs from the third floor. Humphrey dreaded passing the second floor, the one that had put so much fear and anxiety into him. But as they passed, he felt significantly less of it for some reason.
"Anne!" Humphrey heard Knox's voice call. "Humphrey!"
Was he crazy, yelling like that? Either that or…
"Knox, what's going on?" Humphrey called back, unable to wait until he reached the first floor.
Morton stopped on the stairs, which stopped Humphrey too. "Make sure it's really him," he whispered. "It could be false, just like Miss Oakley was upstairs."
Of course. I've got to be on my guard, I can't depend on those around me to always protect me. Then again, Humphrey had to give himself some credit for shocking the black substance off of Morton upstairs. He was improving.
With nothing further from Knox, it was beginning to seem like Morton could be right—this might not be the real Knox. He should have answered by now.
At the bottom of the stairs in the short hall, Humphrey waited, listening for movement. "Knox?" he called cautiously.
Knox strode to the opposite end of the hall. "Anne with ya?"
Humphrey looked at Morton. Would a false version of Knox be asking such a question? Would a false version have the same thoughts as the real version? He had to assume anything was possible.
"Found a Ruin Rat, threw him out," Knox continued. "Luther says there's no more in the house. Got a lot to tell ya, but we gotta get everyone back together." He paused. "Guess ya didn't find Gertrude."
Morton glanced at Humphrey, who felt lost on just how real a false Knox could be.
"Ya hearin' me?"
Humphrey didn't want to have to shock him with his crystal ball, but there wasn't another way to tell whether they could trust him. He willed the ball to shoot a less intense lightning bolt at Knox—hopefully such a thing existed. Thin yellow lightning flew at Knox, hitting him in the shin, where Humphrey thought it might hurt least.
Knox let out a short yelp and bent his leg upward to hold the spot, hopping on the other. "What'd ya do that for? What's wrong with ya?"
"Seems real," Morton whispered.
Enjoyed this excerpt? Please join my Patreon to continue the story—it's pay-what-you-like, and Patreon gets all episodes first before any other platform, plus exclusive details no one else will ever know about! 
You can also head over to Amazon to read and like this episode. While you're there, hit +Follow on Corrupted Magic so you're always notified when there's a new episode: https://www.amazon.com/dp/B0B7GGRRQ7/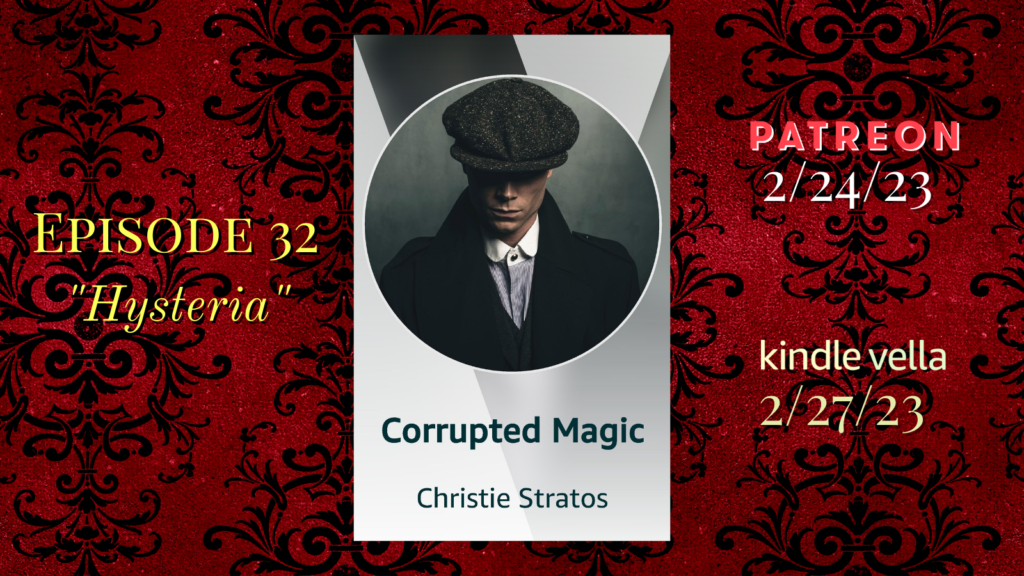 © Christie Stratos 2023