Prohibited Magic is the third book in the Grimoire Society of Dark Acts series. Episode 11 is up on my Patreon—it's pay-what-you-like—and it'll go up later on Kindle Vella.
Episode 11: Morton, Sean, and Patrick eat at a local restaurant, and Patrick's sordid past in New York comes to light.
In my Patreon post, you'll always get exclusive content.
What Prohibited Magic is about:
With Grimoire Society of Dark Acts's magic book and crystal ball in the hands of the parasitic Ruin Rats, Carmichael's decision to take the Book of Blessings and infiltrate the magical gang has left Dark Acts magically crippled. Gertrude is trapped in Grimoire Assassins's magical realm; only the never-before-seen Grimoire of Blood can save her. Dark Acts and its allies split up to stop the worsening imbalance in the Magic Societal Universe, an unprecedented state with unfathomable consequences.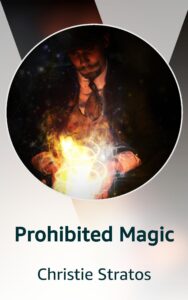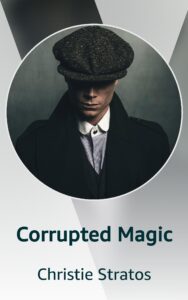 Episode 11: The Irish Boys
MORTON
Morton left his swords under Knox's care, who promised to keep them by his side, or at least lock them away if he needed to leave. At first, Morton was leery due to Knox's issue with the medieval mace, Scriostóir, but that was a special case.
Sean and Morton took the steps down from the front door of Grimoire Assassins's house.
"Lead the way," Sean said. "This isn't my territory."
At the bottom of the stairs, Morton heard the door open behind them, and he turned to find Patrick coming down the stairs.
"Don't feel like sleepin' neither," he said as he reached them, though the darkness under his eyes was apparent in contrast to his pale, heavily freckled skin. Apparently he was coming with them anyway. Morton wasn't opposed; the more of a group they had for those dark back alleys, the better.
"Hungry?" Morton asked. "I'm starved." He looked at his silver pocket watch. We would be just in time for one o'clock dinner at the Bates House Hotel.
"Yeh, let's eat," Patrick confirmed. "Past the time o' breakfast, but that's what I feel like. Wish there was women around to cook so's I could have eggs."
Morton raised his eyebrows at the way he spoke of ladies but said nothing; there was no way he'd be able to change a gang member's mind about how he thought of the more delicate sex.
"Let's eat so we can get goin'," Sean said, rubbing his hands together. Whether it was over the food or getting to the alleys to hunt down the tattooist, Morton wasn't sure.
He led the small group to a nearby hotel restaurant on Washington Street, one whose proprietor he knew. They were seated in the high-ceilinged, spacious gentlemen's ordinary due to having only men in their group, and a waiter Morton hadn't seen before attended them immediately with menus.
"Good afternoon, gentlemen." The waiter's shifting from foot to foot and quick glances gave away his anxiety about the other two men at the table.
I hope I can rely on professionalism here. I, myself, should be enough to prove that these men deserve to be served, even if they don't fit in. Then again, this waiter is a new one and doesn't know me.
"Would you please tell Mr. Bates that Mr. Drew Morton is here with two companions, and I have a special request to serve breakfast for these gentlemen," Morton said. "There's no need for him to break away from his busy day to come see me. I'll visit him another time."
Patrick raised his eyebrows at Morton, perhaps impressed at knowing the owner of a big hotel.
The waiter gave an uncomfortable smile and glanced nervously between the two gang members. It didn't help anything that, aside from their looks—one with an obviously repeatedly broken nose and missing chunk of ear, the other quite Irish, practically a crime in itself—their clothes screamed of gangs, what with each having a color-coded trouser stripe.
The waiter returned his gaze to Morton, who nodded in encouragement. Even so, the waiter looked as if he might ask them to leave if he had the courage.
Enjoyed this excerpt? Please join my Patreon to continue the story—it's pay-what-you-like, and Patreon gets all episodes first before any other platform, plus exclusive details no one else will ever know about!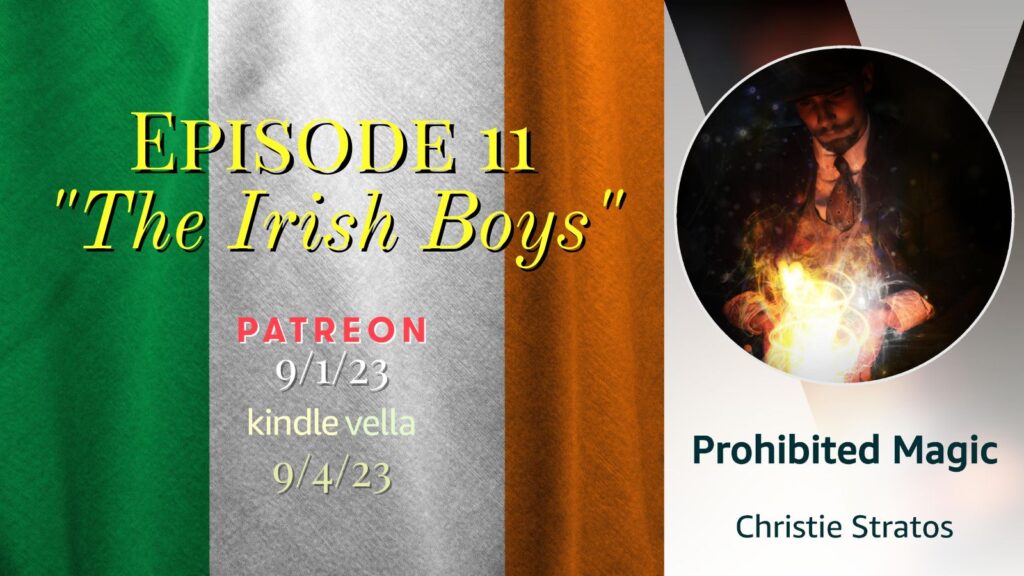 © Christie Stratos 2023