Prohibited Magic is the third book in the Grimoire Society of Dark Acts series. Episode 19 is up on my Patreon—it's pay-what-you-like—and it'll go up later on Kindle Vella.
Episode 19: Morton, Sean, and Patrick get a shocking surprise when a bunch of Ruin Rats suddenly appear at the Guild of Grace—and they're not alone.
In my Patreon post, you'll always get exclusive content, like the real-life inspiration for Morton's dagger!
What Prohibited Magic is about:
With Grimoire Society of Dark Acts's magic book and crystal ball in the hands of the parasitic Ruin Rats, Carmichael's decision to take the Book of Blessings and infiltrate the magical gang has left Dark Acts magically crippled. Gertrude is trapped in Grimoire Assassins's magical realm; only the never-before-seen Grimoire of Blood can save her. Dark Acts and its allies split up to stop the worsening imbalance in the Magic Societal Universe, an unprecedented state with unfathomable consequences.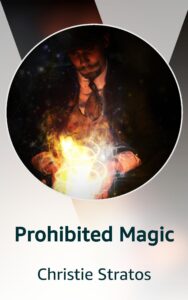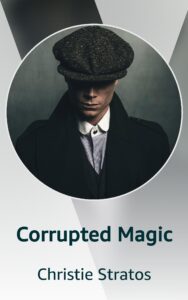 Episode 19: Wrong Place, Wrong Time
MORTON
Sean marveled at the improved slungshot in his hands.
He'd started out with fraying rope, one end in a loop for his hand to grip, the other end a ball of rope with a lead weight inside for heavier impact. Pike had redone the whole thing with metal-wire rope, braided for greater texture with higher impact. The grip loop was reinforced with strong leather to make it easy on Sean's hand, the metal rope between the loop and the ball had been shortened for better control, and the ball at the end was a large tight knot of braided wire ropes, still lead-loaded.
"Begorra," Sean whispered. He looked up at Pike and said in a stronger voice, "This'll really get 'em. Thanks."
"You said you're after the Ruin Rats, didn't you?" Pike asked.
Patrick nodded while Morton answered, "Yes, we are."
"That ought to break their jaws," Pike said, wiggling his eyebrows.
"Thank you, Mr. Pike," Morton said, reaching out a hand.
Pike shook it briefly and said, "The pleasure is mine. Let me know if there's anything more you need." His eyes moved to the left-hand stone wall covered with weapons for sale, then back to Morton. "Mr. Morton, let me give you something small at least. That is, unless you already carry a weapon?"
"I don't," Morton responded. Half of him didn't want a weapon because he didn't want to have to use it. The other half screamed that typical morals didn't enter the equation where the Ruin Rats were concerned. Besides, what could it hurt to have a defensive weapon? That was the only thing he'd use it for anyway: defending himself. "I wouldn't mind a suggestion."
Pike walked over to the wall he'd looked at and lifted a small dagger with its own sheath, balanced atop two nails in the mortar between stones. He brought it to Morton and removed the sheath to reveal what looked like a very clever play on a sword breaker. One side of the five-inch blade was normal: straight and sharp. Instead of the other side having the even-depth wide teeth of a sword breaker, intended to trap an enemy's blade, it had thinner, sharpened teeth closer together, which started at a shallow depth at the point and increased, with the teeth lengthening all the way up to the hilt. The look of it was similar to a dangerous comb.
"Ouch," Morton said, imagining the damage it would do.
"That's a good one," Patrick commented. "Yeh oughta take it."
Sean reached out and took some of the sharp metal teeth between his index finger and thumb, squeezing them. "Nice and thin. Good slasher."
Morton nodded. "All right, I'll take it with me, but I'll return it once we're through. So consider it on loan, and the rest we'll settle up another time."
"It's not on loan," Pike replied. "That one is a gift."
Pike slid the blade into its leather sheath. Morton took it and slid it out and in once. He could feel the inside of it was a light wooden core to keep the teeth from catching on the leather.
Sliding it into his pants pocket, the hilt stuck out a bit, but it was covered by his jacket.
"I appreciate your generosity." Morton shook Pike's hand once more before he, Sean, and Patrick left Sharp Designs. "Do you gentlemen mind if we make one more stop along the way?"
Patrick was distracted by the still-new world around him, and Sean elbowed him in the ribs. "Stop gawkin' and listen to what our charge is sayin'."
Charge? That's right, they think my gifts to them were actually payment for protection. I'm not opposed to that idea.
"I thought we could ask at the Guild of Grace what their theory is on whether parasitic magic could draw from enchanted weapons," Morton explained. "The shop is only there." He pointed a few buildings down.
"Yeah, but yeh said somethin' about not wantin' to do the alleys at night," Patrick said. "Can't tell what time it is 'cause it already looks night-like up there." He nodded at the dark sky.
"The sky will become even darker when it's actually night, believe it or not," Morton said. "But you're right. We'll hurry in this next shop."
Enjoyed this excerpt? Please join my Patreon to continue the story—it's pay-what-you-like, and Patreon gets all episodes first before any other platform, plus exclusive details no one else will ever know about!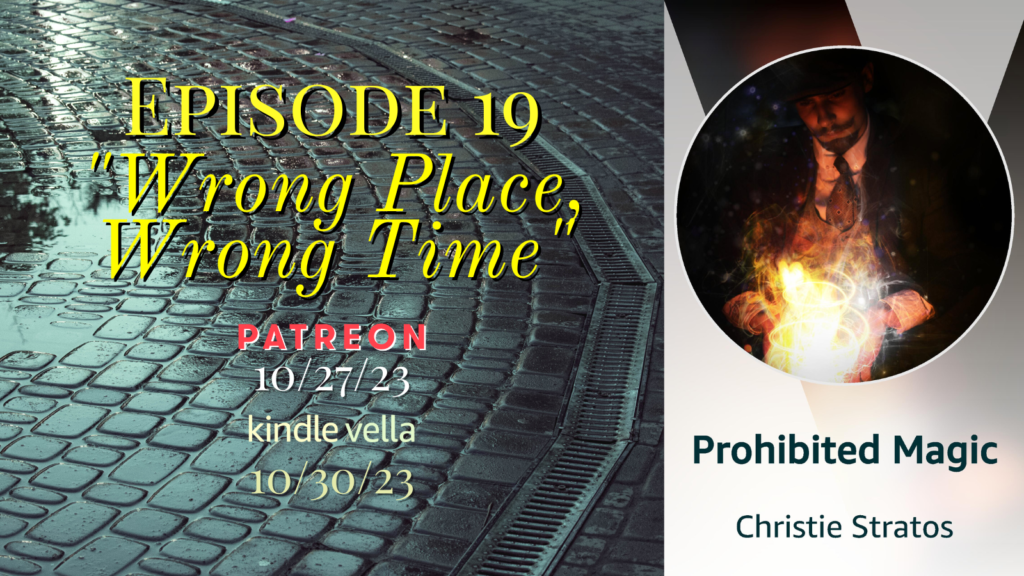 © Christie Stratos 2023