Prohibited Magic is the third book in the Grimoire Society of Dark Acts series. Episode 5 is up on my Patreon—it's pay-what-you-like—and it'll go up later on Kindle Vella.
Episode 5: Carmichael meets Phineas Fenn and finds that he's a little too familiar in an unexpectedly painful way.
In my Patreon post, you'll always get exclusive content.
What Prohibited Magic is about:
With Grimoire Society of Dark Acts's magic book and crystal ball in the hands of the parasitic Ruin Rats, Carmichael's decision to take the Book of Blessings and infiltrate the magical gang has left Dark Acts magically crippled. Gertrude is trapped in Grimoire Assassins's magical realm; only the never-before-seen Grimoire of Blood can save her. Dark Acts and its allies split up to stop the worsening imbalance in the Magic Societal Universe, an unprecedented state with unfathomable consequences.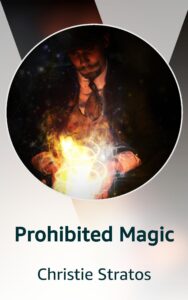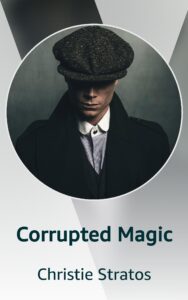 Episode 5: The Ruin Rats's Lair
CARMICHAEL
The other Ruin Rat, the clean-shaven one, came back into the room and tossed his tall hat onto the same barrel Snap's was on, and this time Carmichael got a better look at him.
This one had blue eyes and thick wavy brown hair, parted down the side and lightly oiled to stay away from his face. His features were fine, too fine for a gang member. Perhaps it was his youth, but Carmichael saw no scarring nor marring on his face, neck, or hands. Either he was new to gangs or he was very good with a distance weapon; he'd have to be with such a thin build. Snap clearly preferred throwing stars, but judging by his missing tooth, he mightn't be so good in hand-to-hand.
At least I have Nigel's Book of Blessings back. Now if only I could use it, I could overpower both Snap and this other fool.
"Ready?" the blue-eyed one asked Snap.
"Not quite," Carmichael answered in his place. "I know one of my hosts's names but not the other." He raised his eyebrows as if he had a right to the information.
The nameless Ruin Rat squinted at him, then eyed Snap.
"Not sure yet," Snap said.
Not sure. They're assessing me for more than just the book. That's what I hoped for.
Carmichael took a chance. "I'm sure you're sure. Otherwise I'd have gone back to having my face smashed against the floor and my wrists bound, wouldn't I?"
Predictably, Snap chuckled.
The blue-eyed Ruin Rat nodded but didn't smile and said to Carmichael, "Bill." Apparently that was what he went by.
Reaching behind the crates and barrels, he picked up a nine-inch double-edged billhook. The curved edge had been sharpened to shining, and so had the protruding straight edge on the back. Instead of shrubs and small branches, it could probably cut clean through an arm.
"Quite on the nose. I suppose that's the closest thing to a real name I've ever heard from someone in a gang. Tell me, were you disappointed you didn't get a more exciting one, like Snap?" Bill was not amused in the least. Banter with this one wasn't a good idea; he'd kept a straight face with no hint of a smile or amusement. Carmichael put a flattened hand to his chest. "Carmichael."
Enjoyed this excerpt? Please join my Patreon to continue the story—it's pay-what-you-like, and Patreon gets all episodes first before any other platform, plus exclusive details no one else will ever know about!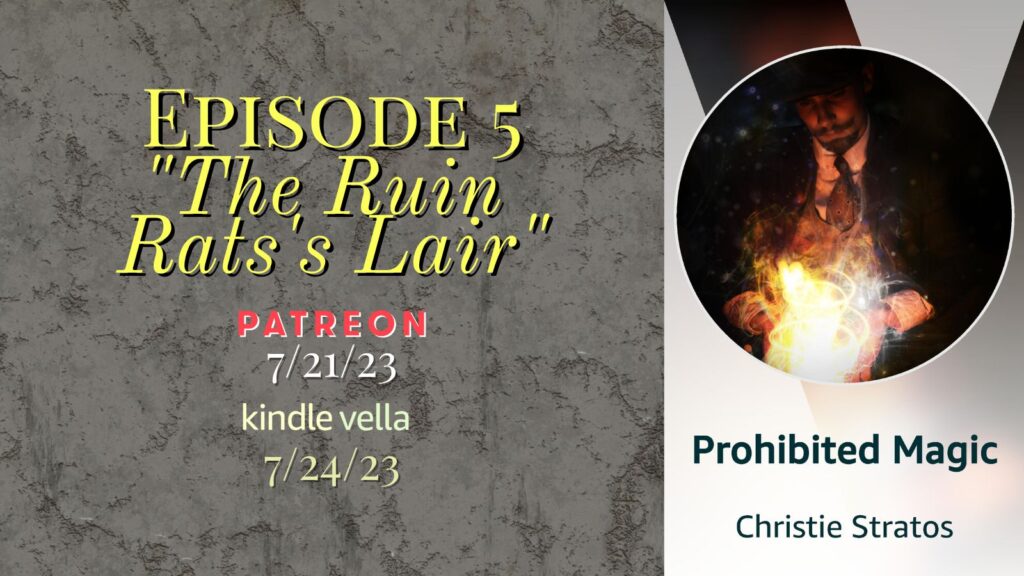 © Christie Stratos 2023