At the beginning of April, I made a YouTube video asking notebook and journal makers to submit their gem/jewel/crystal-themed journals. I've been looking for one to use for another book in my 10-year publishing plan. See my original video here:

I was thrilled with the wonderful entries submitted! I'd like to show you the beautiful and widely varied notebooks these amazing artists have created, and then I'll tell you which journals I decided on. Yes, that's right. Once I saw them all, I couldn't just buy one. All of these creators are very talented, and they're going to be the first on my list of where to buy my next notebooks. Here they are in no particular order:
inblue
inblue is on Etsy and they have their own website. They make handmade leather journals as well as many other things. They were nice to talk to and flexible, saying they could create a 5×8 leather journal for me with this image on the front: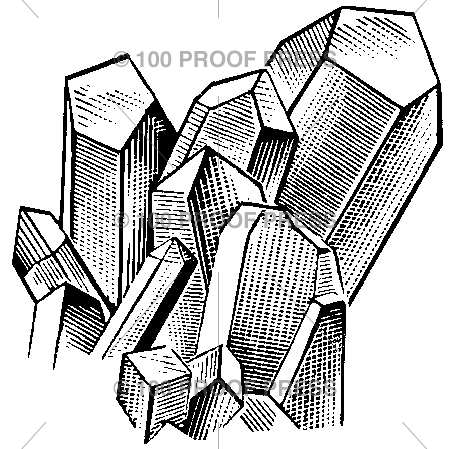 This custom journal would cost $48, but if you're looking for something they already have in stock, there are currently two that each cost $32. I like the look of them and they leave a lot of room for your imagination to take over. If you ever want to ask if they can create something for you, they're flexible!
Visit inblue here to see what they're making:
Facebook: https://www.facebook.com/InBlueHandmade/
Twitter: https://twitter.com/inbluehandmade
Luna Blue Creations
Julie Timis creates all kinds of incredible polymer clay art, and one type of art is her journals. She has her own website for all her merchandise, but she's also on Etsy. The journal she submitted is stunning and original: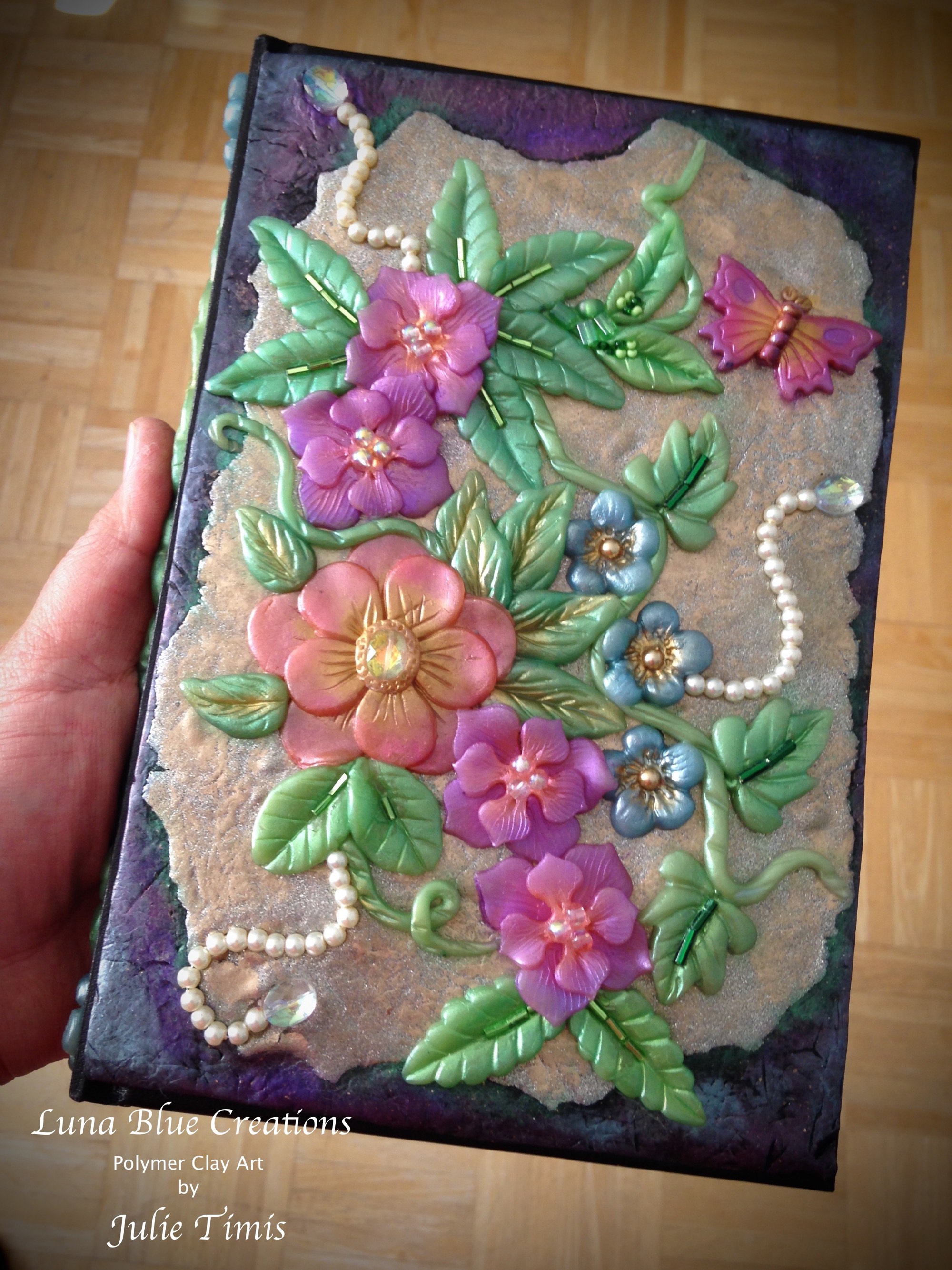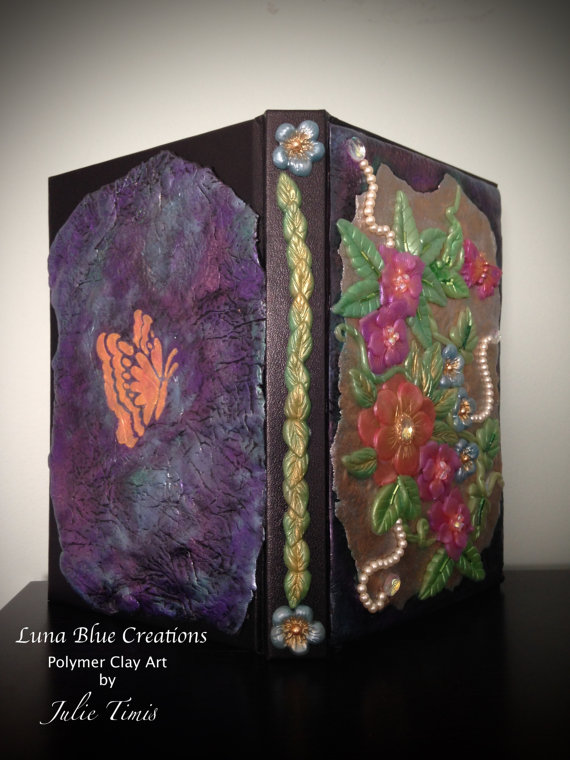 The journal underneath the art is a premium hardbound black notebook at 5.5×8 inches, made by Peter Pauper Press. It has 192 unlined pages of premium quality acid-free paper. Here's how she describes the artwork on the notebook: "The Polymer Clay Cover is handcrafted with love using polymer clay (black and translucent clay), beads and pearl ex powder. The translucent clay with pearl ex powder created a beautiful pearlescent look, just like jewels. Journal might look delicate but All beads are glued before curing and they are secured well and durable for everyday use."
WOW! Anything you buy from her is a one-of-a-kind original, you won't find another like it! This journal is also $48.
Follow Luna Blue Creations here to see Julie's latest creations:
Facebook: www.facebook.com/lunabluegifts
Pinterest: www.pinterest.com/LunaBlueGifts
Note Jewels
Selling both jewelry and gorgeous journals, Not of This Earth (NOTE) Jewels has an Etsy store that is filled with irresistible beauties. The one they submitted is actually part of their Enchantment Series: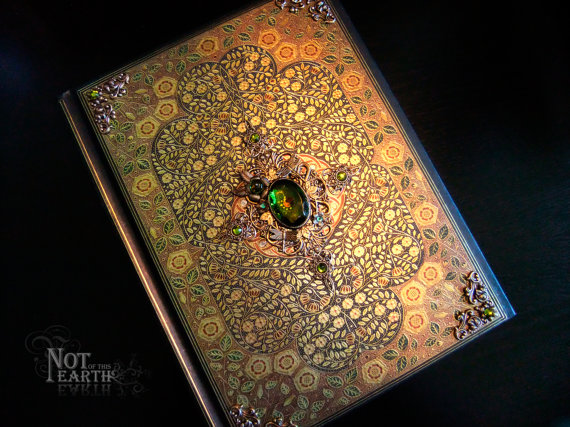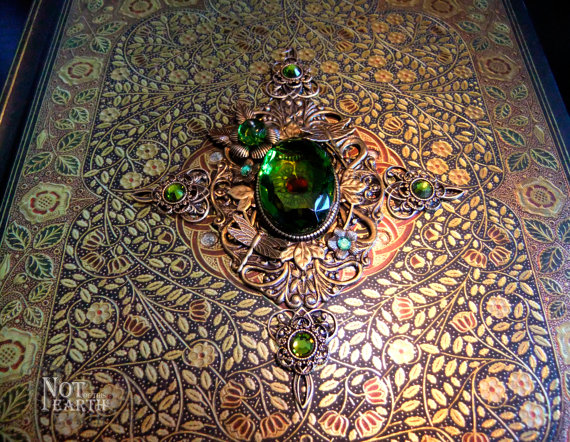 The creator describes the journal better than I can paraphrase: "'Enchanted Forest' is a beautiful 8.25″x6.5″ gold embossed diary. The enchanted theme is the same on the front as the back. Rich hues of brass, moss, sienna and peridot can be found in this OOAK piece. An intricate vintage glass cabochon rests in the heart of this forest surrounded by other stunning brass components. All ranging from filigree, to flowers, dragonflies, and other matching Swarovski rhinestones. The pages inside are lined and blank and have a stunning gold shimmer along the outside." The journal itself is from Peter Pauper Press and is $64.
Don't forget, this journal is part of a series of journals, and there's also jewelry in the same series!

Black Dog Bindery
If you want custom-made, Black Dog Bindery is happy to consult! They have a store on Etsy with pre-made notebooks, but they'll also make one specifically for you. In fact, the owner asked if there were elements of my book I could tell her about so that she could personalize the journal as much as possible. Here's the lovely notebook she submitted: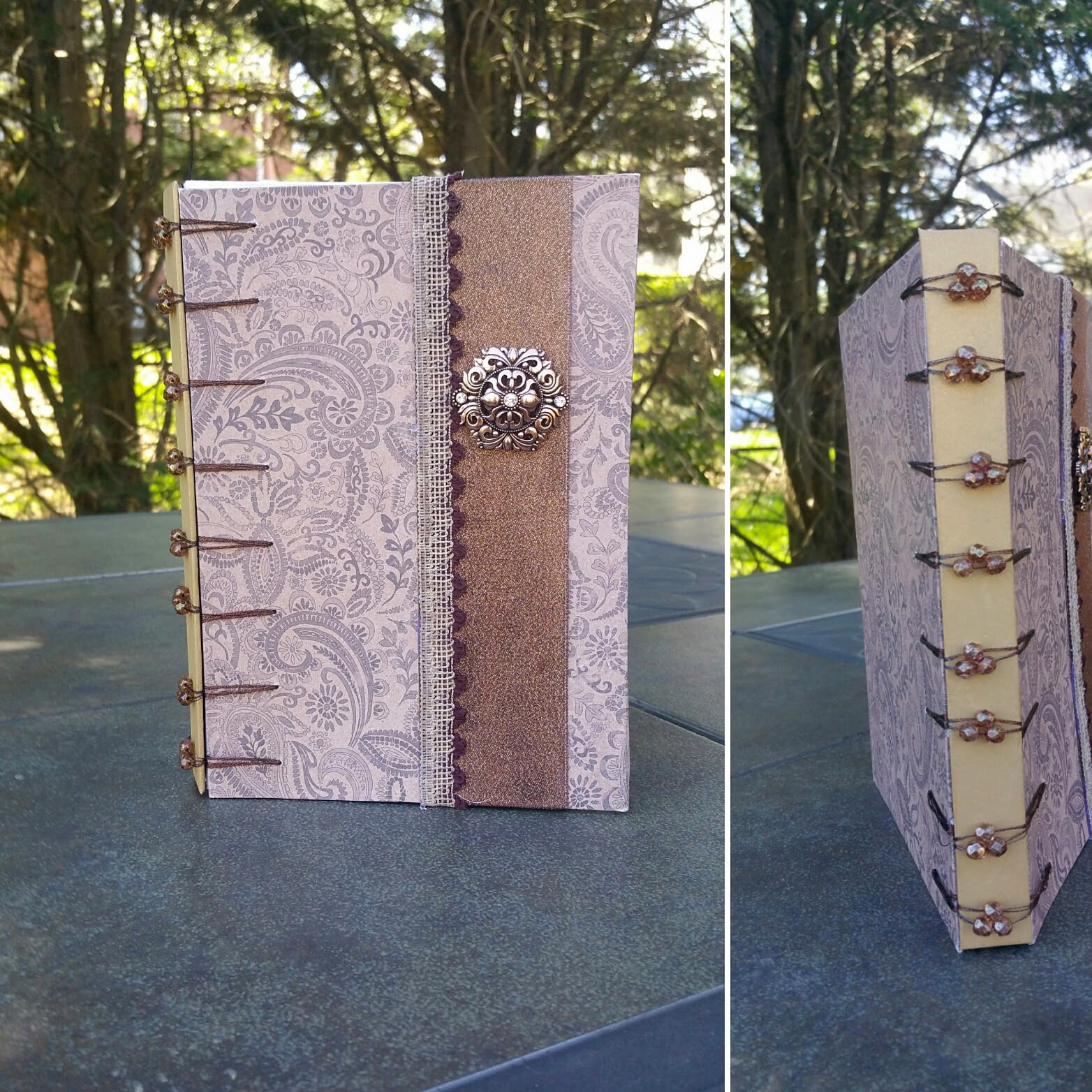 Inside is an envelope for stray notepapers as well as more decorations. There's even a key pattern inside, just for me! The journal is 6×8.5 with 100 pages that have varied decorations down the sides and sometimes in a corner of the page. The binding you see on the side is called Belgian Secret Binding. Doesn't that look like a wearable brooch on the front? This one is $35, and there is a wide range of both styles and prices in their Etsy store. They even have sheet music!
Follow Black Dog Bindery for their latest creations:
Instagram: https://www.instagram.com/black_dog_bindery/
TeoStudio
Here is another amazing artist that works directly with the author to make your dream journal. TeoStudio is on Etsy and they have their own website, and everything is handmade according to your style. I consider these "forever journals" – the types you put serious thought into and show off everywhere you go. Here are the two journals that were submitted: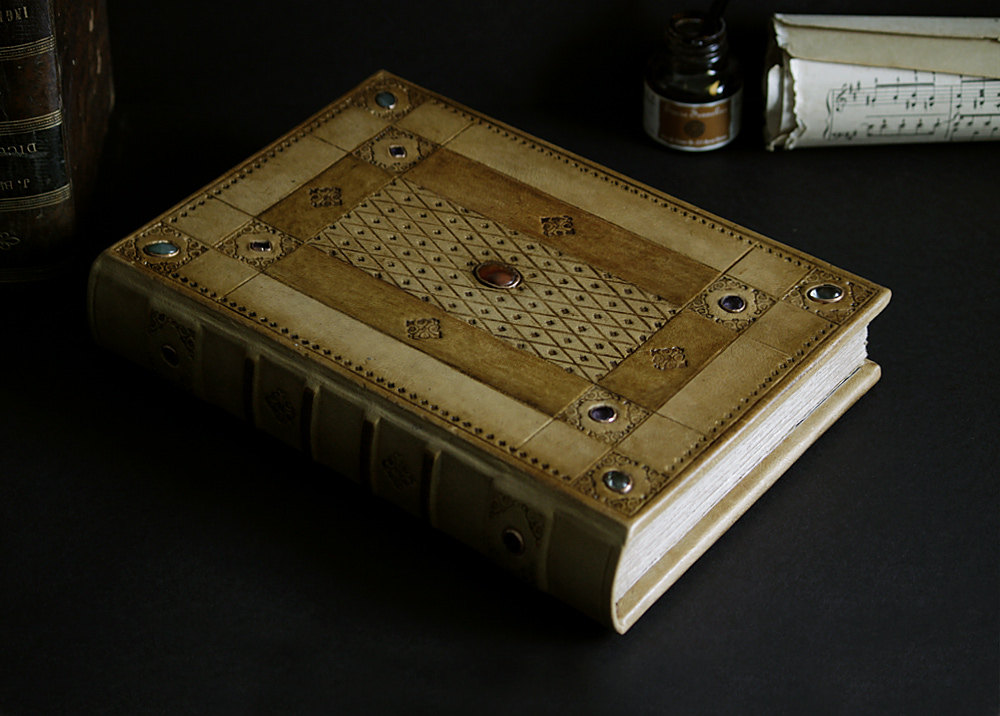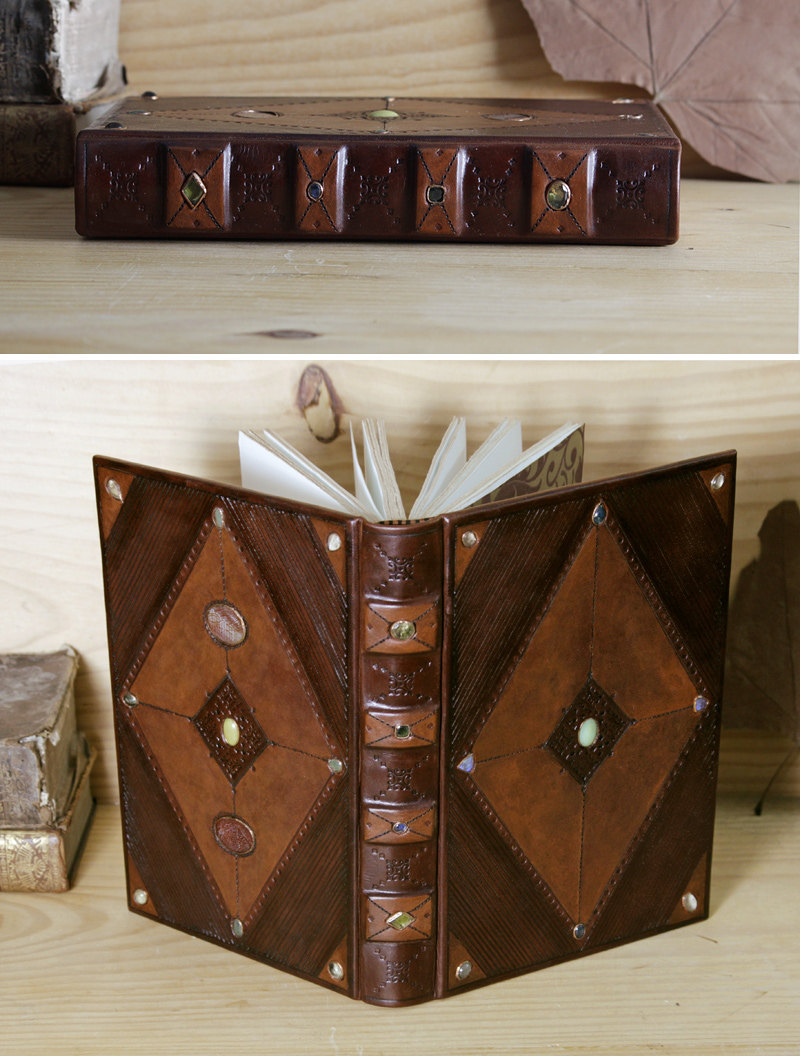 The owner was very clear that she could work directly with me to create exactly what I wanted and that these were just examples along the lines of what I suggested in my video. (Obviously they're beautiful!) The notebook TeoStudio would create for me would be 6×8 with "leather binding decorated with precious / semiprecious stones (that we would agree upon together), filled with writing / artist quality paper, white or antiqued. Depending on your choice of paper the journal would have between 110 and 320 pages (220 – 640 sides). Other features include handsewn headbands and marbled endpapers. Everything is made by hand" and she can incorporate stones cast into brass or copper rings. Mind blown!
Depending on whether you would like something simple or something super complex, the price ranges from $33 to $985. There's really something for everyone here.
Keep up with TeoStudio's new ready-to-order journals as well as their latest custom orders:
Facebook: https://www.facebook.com/TeoStudio/
Instagram: https://www.instagram.com/teostudiobookbinding/
Tilsim Handcrafts
On Etsy, TilsimHandcrafts offers a variety of leather notebooks with stitching and metal details. They're all extremely unique, and some have symbolism behind them. I don't currently have permission to share images from their Etsy store (if this changes, I'll post a picture ASAP), and the image I received in our messages was too small to use, so please do visit their Etsy store to see these very original journals that come in a variety of sizes and prices.
See what they're making now:
Instagram: https://www.instagram.com/tilsimhandcrafts/
Which journals did I buy?
Before I tell you what I bought, let me just say that I truly adored all the submissions! There are loads more journals made by all of these artists, so be sure to take a look at their wonderful wares. It was so much fun going through their submissions and their whole shops!
Now to get down to business.
Let's face it. I can't help myself. I love notebooks and I use them all the time. None of them go to waste, but I do need special ones for certain works that require an ambiance for me to write properly. I didn't just buy one. I bought one for the project I mentioned in my video, and then I bought two more: one for my future Gems of Sisterhood anthology pieces (the first one, Gems of Strength, comes out May 30!), and one for my upcoming medieval book(s) that will be published after the Dark Victoriana Collection is finished.
My jewel-theme journal choice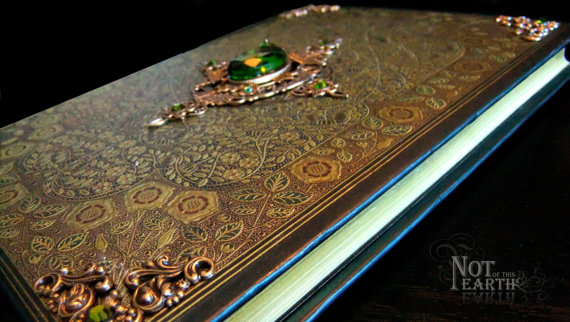 As soon as I saw this journal, I knew it was the one for this piece. I had nothing in particular in mind when I posted my YouTube video, but it struck me right away that this was what I was looking for…even though I wasn't looking for anything in particular. It's stunning and to me, absolutely perfect. I can't wait to see it in person!
See what else Not of This Earth Jewels has in stock here, including amazing jewelry: https://www.etsy.com/shop/NoteJewelry
My Gems of Sisterhood choice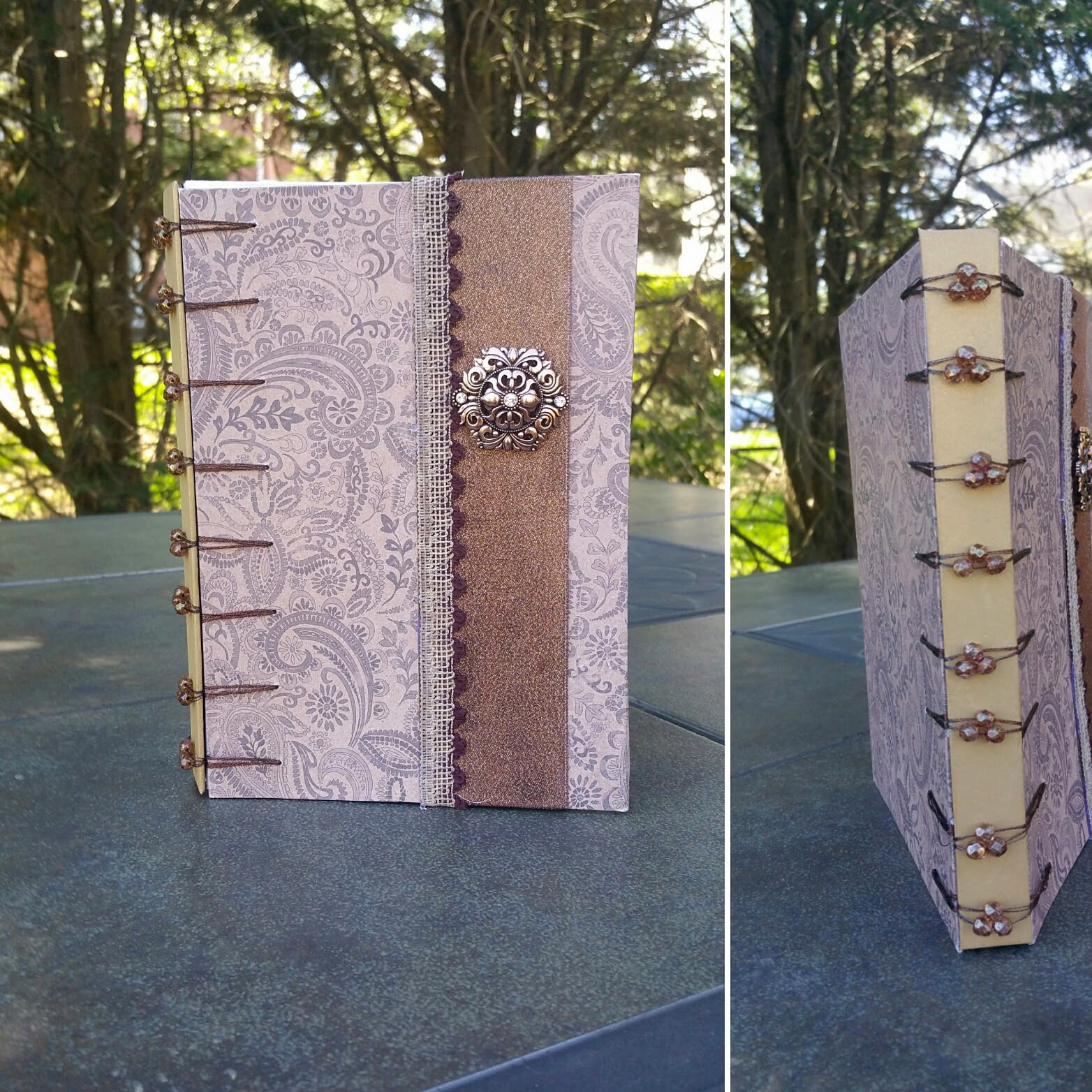 I love the intricate detail of this notebook all throughout. It represents my writing well in a lot of ways, and I could see myself using it as my go-to short story notebook, not just for the Gems of Sisterhood series but for other shorts as well. Even poetry and haikus! It resonates with me. I can't wait to get my hands on it!
Check out the other great journals Black Dog Bindery has in stock: https://www.etsy.com/shop/BlackDogBindery
My medieval novel(s) choice
This one is off the map – this shop didn't submit because, well, I didn't say I was looking for a medieval journal. I just happened across it and gasped out loud at its magnificence.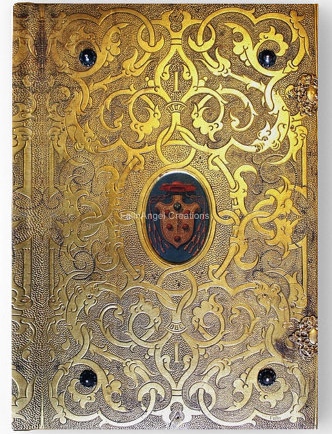 I think this journal will make the difference in my note taking; the current one I'm using really doesn't fit the theme at all. This one is 5.2×7.3 inches with 128 pages for $22. There are actually a few journals I love in FallnAngel Creations, and I was surprised to find equally beautiful and intricate binder designs, something I don't see too often. I think a few of these will be on my wishlist for some future projects.
Take a look at all the goodies FallnAngel Creations makes: https://www.etsy.com/shop/FallnAngelCreations