Corrupted Magic is the second book in the Grimoire Society of Dark Acts series. Episode 29 is up on my Patreon—it's pay-what-you-like—and it'll go up three days later on Kindle Vella. Here's an excerpt from this latest episode.
Anne and Nigel try to find Grimoire Assassins' magic book to their own detriment.
In my Patreon post, you'll get exclusive content, which includes an amazing witchcraft poppet from real life!
What Corrupted Magic is about:
Grimoire Society of Dark Acts's hard-won defeat of the brutal Harpe brothers should have been a relief… But through a forced double blood-binding, Gertrude disappears right in front of their eyes. The Ruin Rats, a vicious magical street gang, is out for Dark Acts's blood. Knox calls on the deadly gang from his past for help, but is the physical cost too high to pay? As if that's not enough, a new corrupt form of magic is throwing the entire magical universe off balance.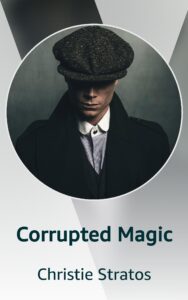 Episode 29: Hexed to Hell
ANNE
Nigel and Anne kept their backs against the wall of the short hall that led to the staircase Humphrey and Morton had gone up, keeping themselves as hidden as possible. Waving his hand at different areas of the house, Nigel murmured so softly, Anne couldn't hear his command. She waited patiently, unsure how much time was passing, but it seemed like a lot. The longer it took, the more strained with nerves her breathing became.
"I'm not feeling anything definitive on where their Grimoire is," Nigel whispered more audibly. "Something is pulling me to the second floor though. Perhaps we ought to try up there first."
Anne nodded and gestured for him to go first. His Book of Blessings could protect them better than her rune stones.
As they slowly and cautiously climbed the stairs, Anne's body began to heat up uncomfortably, almost as if she had a burgeoning fever. As it quickly increased, it felt like she was standing right next to a roaring fire. Oddly enough, her fingers felt a little stiff, and even with such heat overtaking her body, chills ran through her too.
She watched Nigel carefully to see if he also felt it and noticed when he reached up to adjust his collar, pulling it away from his neck. 
They reached a small landing with still more stairs before they got to the second floor, and Nigel paused to look back at her, sweat dotting his forehead.
"Something is wrong in this house." With his free hand, he removed a handkerchief from his pocket and dabbed at his face and his neck. "Do you feel it too?"
"Yes, it's terrible." Anne swallowed hard, her fingers stiffening more by the moment. "Keep moving, let's get out of here as fast as possible."
Nigel continued up the stairs, his handkerchief still in his hand, occasionally patting his brow. 
By the time they climbed the rest of the stairs and reached the second floor, Anne's legs felt leaden. Again, time had stretched, and it felt like hours had gone by.
She lumbered a couple of steps away from and to the side of the stairwell to get away from it, but her discomfort only grew on this floor. Removing her own lace handkerchief from her pocket with hands that felt ages older than she was, she dried her face of sweat.
Nigel stood in front of her, his face flushed, once again pulling his collar away from his neck. "It must be…protective magic." It sounded as if his throat was swollen, the way his voice was strained, so thin and weak. "I'll try to find…the source." His long legs lurched forward as if it was hard to control them. 
Enjoyed this excerpt? Please join my Patreon to continue the story—it's pay-what-you-like, and Patreon gets all episodes first before any other platform, plus exclusive details no one else will ever know about! 
You can also head over to Amazon to read and like this episode. While you're there, hit +Follow on Corrupted Magic so you're always notified when there's a new episode: https://www.amazon.com/dp/B0B7GGRRQ7/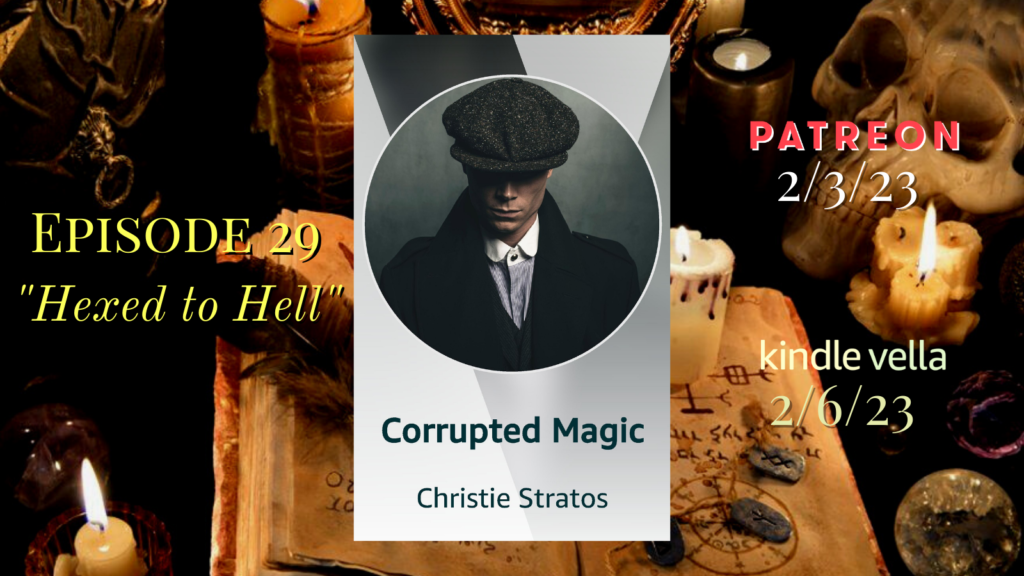 © Christie Stratos 2023