I haven't done one of these posts in a while, and yet Mondays are still coming around. ::sigh::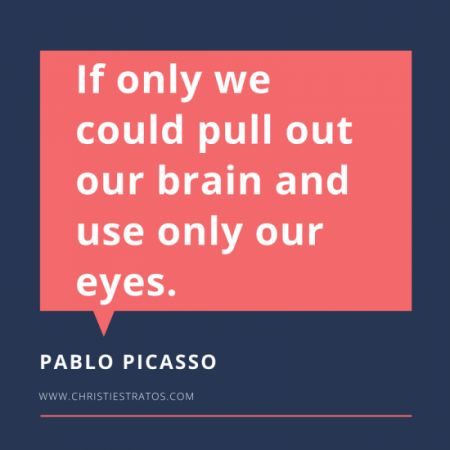 A couple of weekends ago, on both my Facebook profile and my YouTube channel, I talked about what I like to refer to as PC Penhale Syndrome. When you want to write, you're inspired to write, you're dying to write, and yet you just…can't. It feels a bit like this Pablo Picasso quote, "If only we could pull out our brain and use only our eyes", but for writers, we wish our fingers could do the typing and take out the brain that's stopping us from moving forward.
I was thrilled that fellow writers in the chat at my YouTube event understood my issue. Fellow writers on Facebook left wonderful messages of encouragement. All of that helped —and thank you! Have a look at the YouTube video below to see the helpful comments that popped up during the livestream.
I want to let you know that writing every day helped a lot, and once I got going, I couldn't stop! I think all that creative energy built up inside me came pouring out with fervor, so in that way it was great. But I don't want to let it happen again because it's painful until the spell is finally broken.
Even if I don't feel inspired or have the path yet for my "main" work (i.e. the next book in the Dark Victoriana Collection), I have SO many other planned works that it's not hard to pick one and work on it instead. So I'll have to make sure that I use my writing time for either my main work or one of those other projects.
If you're suffering from PC Penhale Writer's Syndrome, watch the below video to know you're not alone, and leave a comment so we sufferers can commiserate. Happy Monday!