Corrupted Magic is the second book in the Grimoire Society of Dark Acts series. Episode 26 is up on my Patreon—it's pay-what-you-like—and it'll go up three days later on Kindle Vella. Here's an excerpt from this latest episode.
Knox's men contribute to the new direction the society will take to save Gertrude…but will it end up any different?
What Corrupted Magic is about:
Grimoire Society of Dark Acts's hard-won defeat of the brutal Harpe brothers should have been a relief… But through a forced double blood-binding, Gertrude disappears right in front of their eyes. The Ruin Rats, a vicious magical street gang, is out for Dark Acts's blood. Knox calls on the deadly gang from his past for help, but is the physical cost too high to pay? As if that's not enough, a new corrupt form of magic is throwing the entire magical universe off balance.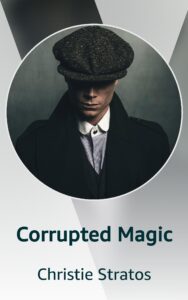 Episode 26: A New Command
KNOX
"We're already runnin' late," Knox said to his new cobbled-together gang. "Follow Humphrey in and meet the people ya'll be workin' with. And treat 'em nice."
Humphrey's forehead wrinkled as if surprised he should have to lead these men into the dining room. "Oh, of course. Come with me, gentlemen."
Heh, gentlemen. Only Humphrey.
As soon as Sean, Patrick, and O'Sullivan had left the room, Knox turned to Finnegan, whose eyes explored the shillelagh again. "Like it?"
He looked up. "This is an incredible gift. Extremely generous to give to someone they don't know." He ran his fingers over the length of the black wood handle, mesmerized.
Gotta set him straight.
"Finnegan," Knox said to get his attention.
"Yes?"
The emotion in his eyes was too clear, and that was dangerous, even with a gang Knox used to know and trust. Used to. "Feel whatever yer feelin' here and now, then drop it before we go inside. Don't forget what they are. I won't trust 'em till they prove themselves against Grimoire Assassins. Don't take down yer guard just 'cause ya think they understand ya, what ya been through."
Finnegan stared at him blankly for a moment, before he looked down at the shillelagh again and sighed.
"Ya think I don't understand?" Knox said. "The Dead Rabbits were the only ones who took me and my brother in after we were dumped at an orphanage as kids." Brother had become a word tainted by pain and self-hatred, a word that Knox hated saying; his tongue almost resisted it. "I wanted a better life for us than those places, would rather've been on the streets, and we were for a time. We had to prove ourselves to them, even though they were just startin' out back then. Had to steal somethin' from a non-Irish shop under their watch, and 'cause we ourselves weren't Irish, had to pickpocket for double proof. Once they take ya in though, yer one of 'em for life."
Knox looked into Finnegan's hazel eyes and held his stare. "I was a brother in fire too. I'm not anymore—that's a story I don't wanna tell. But just remember this: I did somethin' so ugly, I got ousted right from the top after bein' with 'em almost all my life. There's no tellin' whether they're really here to help us or to finally get retribution for what I did. Realize that they only found me now 'cause I told 'em where I was; they didn't have the chance to get at me before. So keep yer head about ya."
Finnegan's cheeks sucked in as he considered Knox's words, searching his face as if he didn't want to believe what he'd just heard. "I understand," was all he said.
Enjoyed this excerpt? Please join my Patreon to continue the story—it's pay-what-you-like, and Patreon gets all episodes first before any other platform, plus exclusive details no one else will ever know about! 
You can also head over to Amazon to read and like this episode. While you're there, hit +Follow on Corrupted Magic so you're always notified when there's a new episode: https://www.amazon.com/dp/B0B7GGRRQ7/
© Christie Stratos 2023