Unfortunately this episode of Lurking for Legends has been canceled due to a natural disaster in Wendy's area. Please check out her books below to support her!
*
W.L. Hawkin joins Richard H. Stephens and me this week on Lurking for Legends! She's an urban fantasy author whose Hollystone Mystery series (4 books) is "edgy urban fantasy with a twist of murder". Sounds good to me!
Join us on Tuesday, November 16, 2021 at 8 p.m. ET here.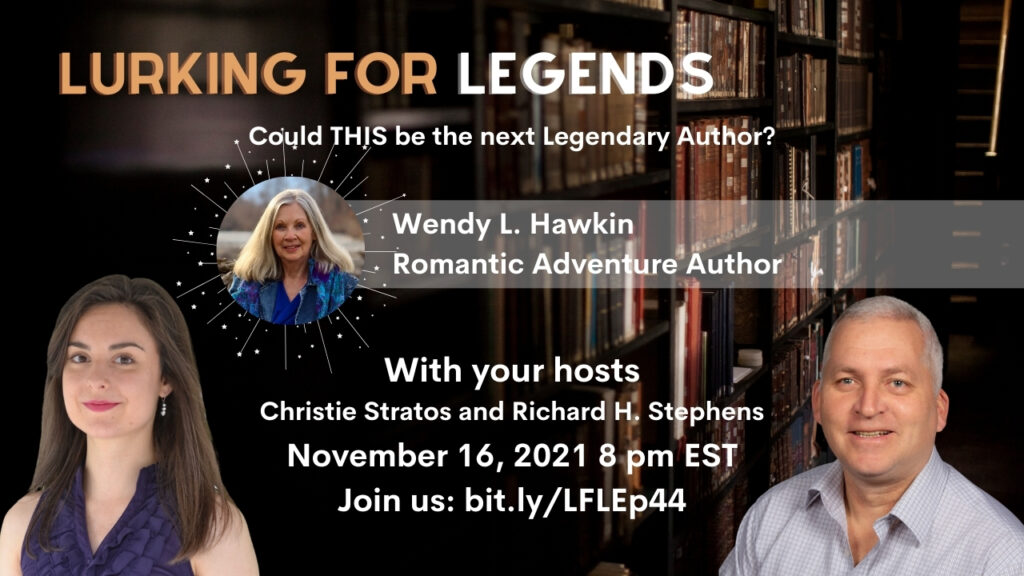 WL Hawkin
writes "edgy urban fantasy with a twist of murder" from her loft near Vancouver, B.C. Her novels 
To Charm a Killer, To Sleep with Stones, To Render a Raven
, and
To Kill a King
each stand alone but form the Hollystone Mysteries series. This coven of West Coast witches, and their eccentric friends, solve murders using ritual magic and a little help from the gods.
Although Wendy is an introvert, in each book her characters go on a journey where she's travelled herself. She researches all her locales (Ireland, Scotland, the B.C. Coast) to soak up the sensory landscape. In 2017, she climbed Croghan Hill in Ireland to survey the land her king would rule in To Kill a King, a romantic time-travel thriller set in Iron Age Ireland.
A seeker and mystic, fascinated by language, archaeology, and mythology, Wendy graduated from Trent University, Ontario, and has post-bac diplomas from SFU in B.C. Her background in Indigenous Studies and Humanities informs her work. She found her voice publishing poetry and Native Rights articles in Canadian news magazines and is now an Indie author/publisher at Blue Haven Press: 
http://bluehavenpress.com
Wendy's Books
Connect with Wendy