The very first episode of Lurking for Legends will be LIVE on Tuesday, January 12 at 8 p.m. ET! I can't wait to co-host this awesome show with the talented and fun Richard H. Stephens. You can watch our interactive videocast as it happens or after the fact, but we'd love to see you in the audience while it's going on.
Join Richard and me here on Richard's Facebook page as we interview B.J. Fournier, author of the paranormal romance series Immortal Magic.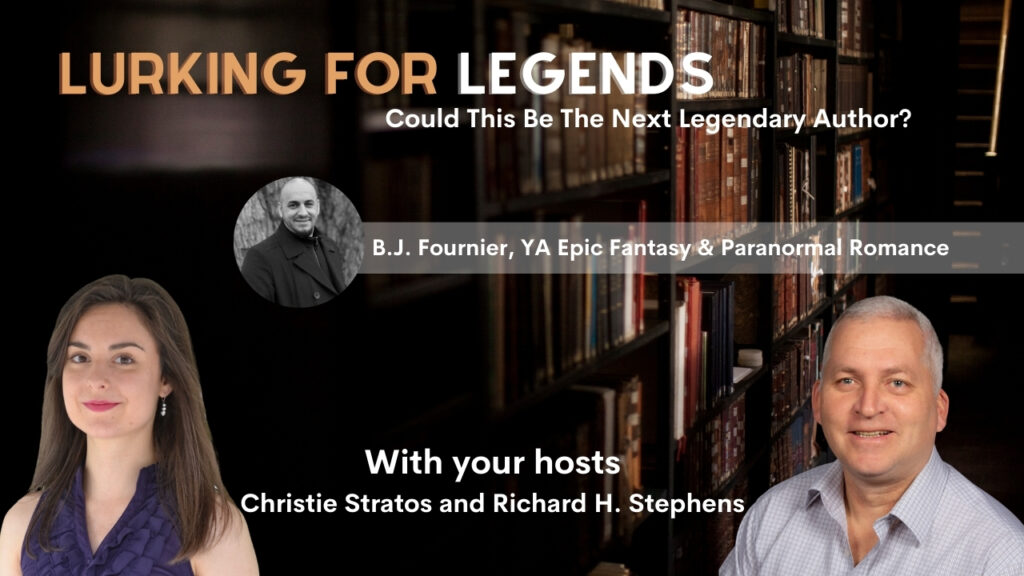 Learn more about B.J. Fournier
B.J. has enjoyed writing since he was just a boy—12 years of age. He would write short stories and give them to his mother as gifts.
As a full-time single father, raising his daughter, he faced the natural hurdles any single parent would face pursuing a career as an author while maintaining the obligations necessary to raise a child adequately. Even so, and with diligent perseverance, he continued moving forward and built his stepping blocks slowly and over time, as he maintained a career as a business consultant while writing in his spare time.
His hard work and ambition finally paid off and The Immortal Magic series represents his first published literary work. Immortal Magic, Forbidden Love released on September 3rd, 2019, receiving outstanding reviews and critique. It immediately climbed to #2 on Amazon's bestseller list. Book two of this series, Dark Times, was published in 2020, and book 3 is coming soon.
Connect with the author:
Amazon author page
https://facebook.com/immortalmagic
https://immortalmagic.com
Check out his books:
Please note the below are Amazon affiliate links. Thank you for supporting both the author and me.